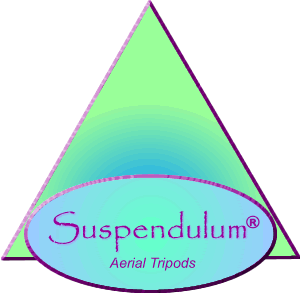 Suspendulum Assembly
Click the following link so this video can show you how to set up and take down the rig.
https://www.facebook.com/suspendulum/videos/1740018736227451/
Make sure not to spread out the legs too far or it may collapse and bend back one of the apex tubes.
This can be fixed but there would be time involved in getting a replacement part.
ATTENTION: When you want to swap out the vehicle, i.e. rope, silk, cable, etc. in the middle of a performance
make sure you remove the feet from the legs so the rig doesn't take off like skis
causing the top apex tube to bend backwards, requiring you to have to order a replacement Apex tube.
Get a feel for how far the apex legs spread with each level of leg section without spreading too far.
Below is a pictorial assembly