Here's my testimonial/love letter about the Suspendulum:

The Suspendulum is a fantastic piece of equipment. As an engineer myself I really appreciate that the Suspendulum's efficient and modular design. It is both easy to use and extremely durable. My favorite features are that you can adjust the height of the rig point, hang multiple apparatus at once, and you can break it down and fit it in your car! The suspendulum has allowed me to train and perform in places that have no other rigging options. I think this is one of the best purchases I've ever made!

Laura Rose September 19, 2014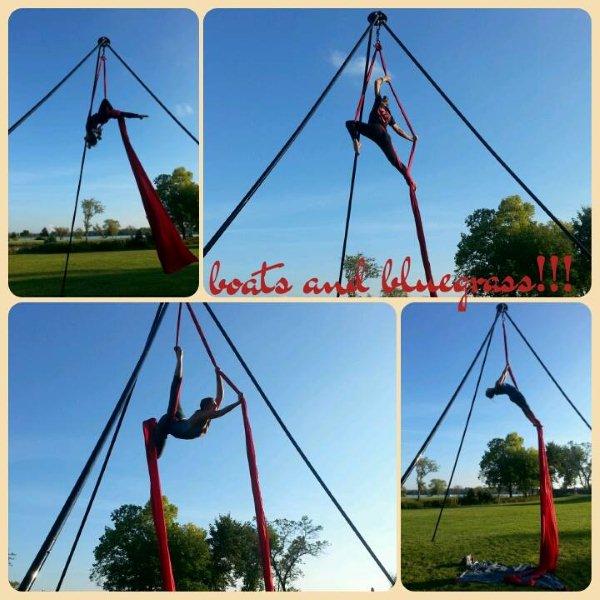 Aerial Artistry by LeAnne DeLoach 1/23/2013
9/21/12 Leigh Ann writes:
My name is Leigh Ann. I have been practicing aerial arts for over a year now. I purchased a Suspendulum® this summer. I love it. It is so easy to maneuver! I drive a mini-van, and when the rig is taken apart, it fits like a glove inside of it. In fact, I am taking it with me on a road trip from Colorado to Tennessee.
It takes hardly anytime at all to construct the Suspendulum®. It is easily done alone. I do prefer to have someone help me to break down, simply due to tired arms after playing on it for so long!
The Suspendulum® is a strong tripod! A couple of weeks ago, some of my friends and I were practicing doubles, and we ended up with 4 people on it at once! It made for an awesome photo!
I recommend giving it a whirl to anyone interested in breaking away from indoor time constrictions, ie trying to rearrange schedules to hit open gyms that can be few and far between; Also to people who like to travel; and to people who just want the luxury of setting up outdoors under the sun any time, any place.
---
12/22/12 Amy writes:
Testimonial: I love my Suspendulum® rig! Easy to put up and tear down. Very stable. Plenty of room to climb, wrap and move. Versatile - it's been in the backyard on concrete, at the beach and at the park.
---
"I ordered a Suspendulum® in June 2013 and it's great. Thank you for this really nice equipment!!!"

Vincent Poliquin-Simms
Directeur général et artistique
Look-Up Aerial Arts / Arts Aériens
613-791-8004
info@look-up.biz
---

I LOVE my Suspendulum® aerial rig. The set up is incredibly easy and can be done with just one person if needed. I appreciate the security of the way the legs and apex fit together which makes user error during set up next to impossible. The Suspendulum® is strong but also lightweight which makes it easier to transport and set up as well. The rig can be set up at different heights very easily which also makes it versatile. The powder coat paint makes it durable to the elements and looks professional. So just to recap: easy to set up, less risk of user error, strong but yet lightweight, versatile, professional. What more can you ask for in an aerial rig??

~ Janet - California

"What could be better than hanging in a blue sky from a purple ribbon and thanks to the Suspendulum® I can!"
Thanks again!
ciao cina, Australia
---




Hey Be Be ~ Feel free to use this video on ur site , we love our Suspendulum® rig !!!! :-) amanda .. Raleigh, NC.

http://www.youtube.com/watch?v=IRqW5wgye-U

---
Here is a testimonial from Evan in Australia
Hey check out this video of me and my wife, kind of an 'unboxing' video hehe. note me trying to strike an elegant pose at the end. hah. http://www.youtube.com/watch?v=xiFFl6cM4oA

Thank you, Evan 12/23/2013
---
Hi Be Be!!

We did "Ms. Goose and the Naughty Tails" here in Baltimore, and as promised, here are some pics.
The Suspendulum® looked awesome!! It's a little hard to see, but it added so much to the look of the set. I wish there would have been higher ceilings to get all three legs in though.
Thank you!!!
Robin Miller
passionproductionsllc.com
aerialrobin.com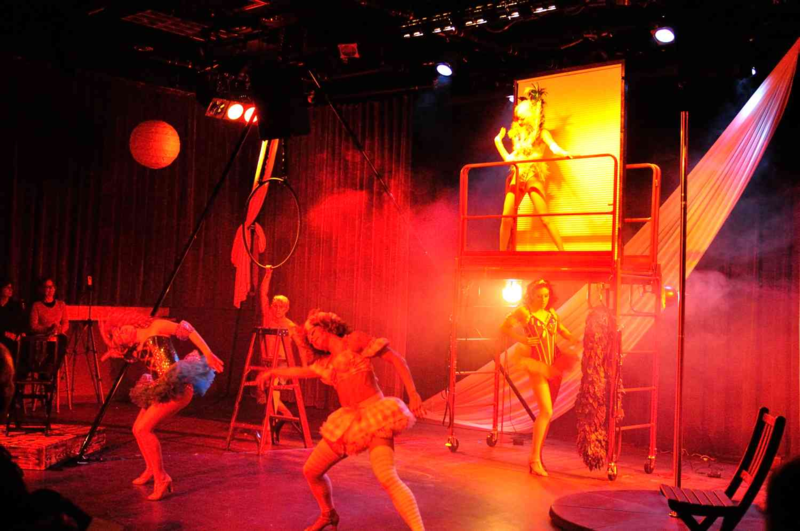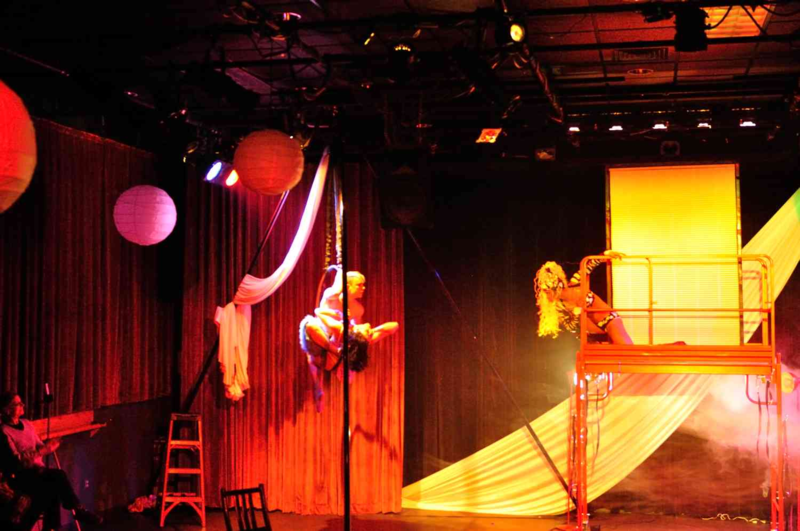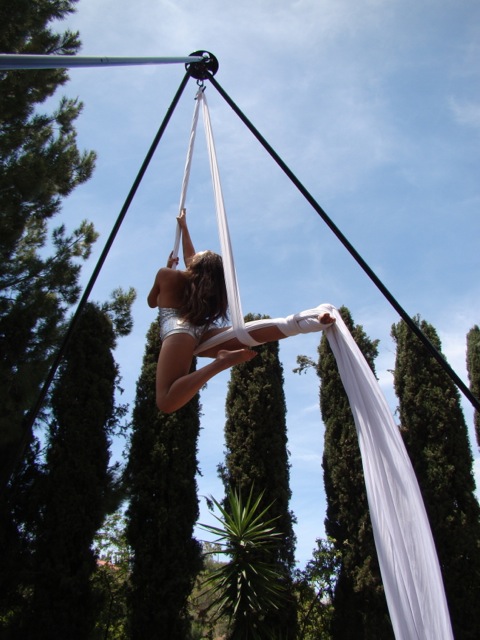 I really am loving my Suspendulum® rig, it is portable, sets up quickly, durable, and packs up to fit inside my Jeep! I love the convenience of the rig, the sleek exterior look, the ease of use, and the beautiful lines it creates, I am grateful to have it in my life, especially on the road, when you need an aerial fix on the go. <3 <3 <3 Lisa C.
This UTube Video just in Thanks to Rebekah Leach
YouTube video using Suspendulum® provided by Julie Seen
Testimonial from Julie Seen 7/1/14

"I have had my Suspendulum® for 2 years and have been very happy with it. I love how it looks, it is elegant and adds a beautiful element to festivals parties,weddings,or any event. I love how quickly it sets up and is taken down. It works well with all of the apparatuses I use ( silks, Lyra, and Spanish web) I have had an excellent experience working with BeBe. During my ownership of this rig I have inspected it well with each use (as directed) and after using it regularly for 2 years, I found a worn area that needed replacing. BeBe helped me take care of it right away. Remember to follow the recommendations on proper use and always inspect all of your equipment. This is a great rig and meets the needs of many aerialists who can't afford to rent out a space but want a safe way to hang aerial equipment." - Julie Seen Knoxville,TN
More from Julie Seen
Yet even more from Julie Seen with major DROPS on the Suspendulum®

Aerial Dancer Cydney M. From Dallas TX, " I love my Suspendulum. Its easy to put up and tear down and I can even fit it in my little Toyota Camry. It is durable in weather and strong enough for even hard drops. Thankyou!!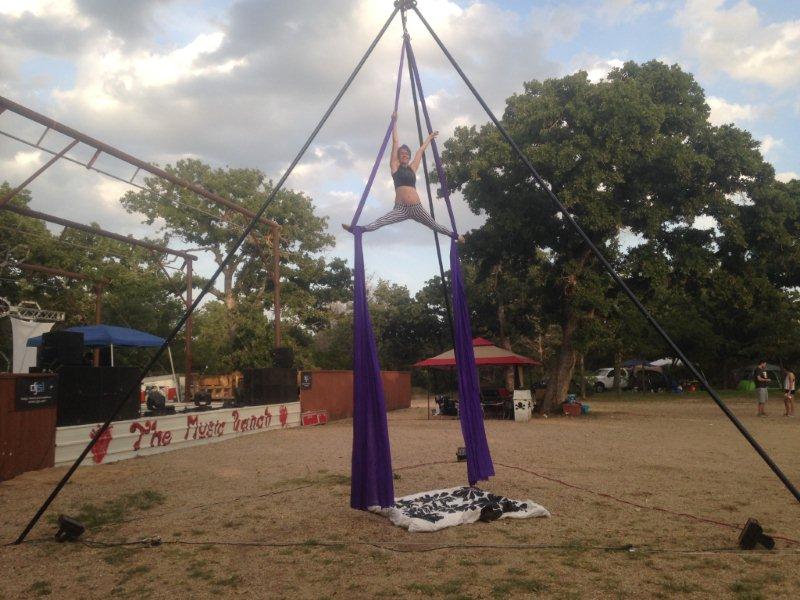 Laura Rose of Wisconsin playing in the lovely fall weather of 2014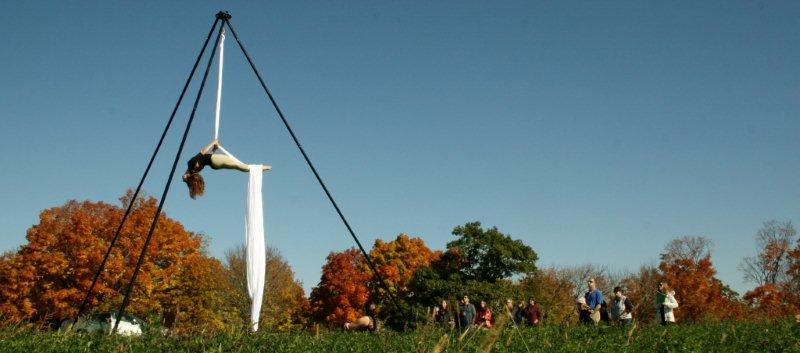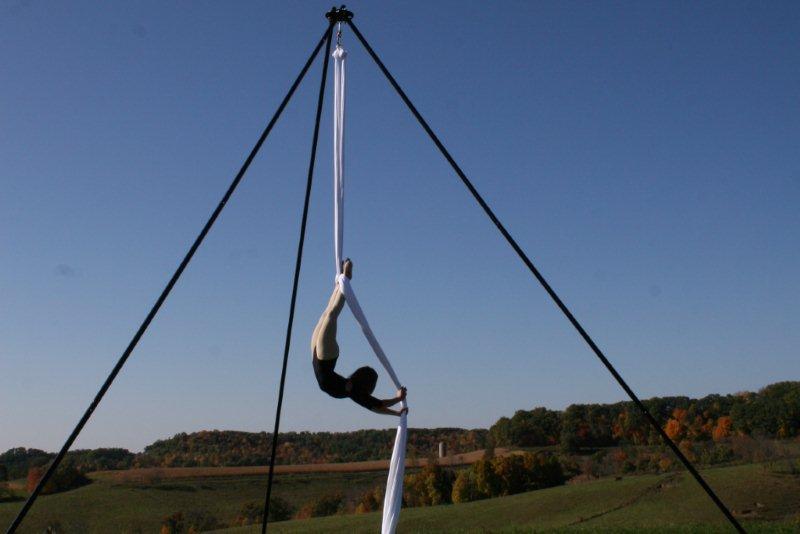 Be Be,

I just wanted to say thanks for the AWESOME rig. It was up 10 minutes (so easy!) after it arrived and my daughter (11 yrs old) has been using it every single day since it arrived. I really can't express how much joy it has brought her. She's already made some of her own routines and put on several "shows" for us. I even caught her out there yesterday trying to teach her older brother (17 yrs old) some trapeze moves. Good stuff, haha...

Here are some pics of her using the trapeze right when we put it up.

Thanks,
Jason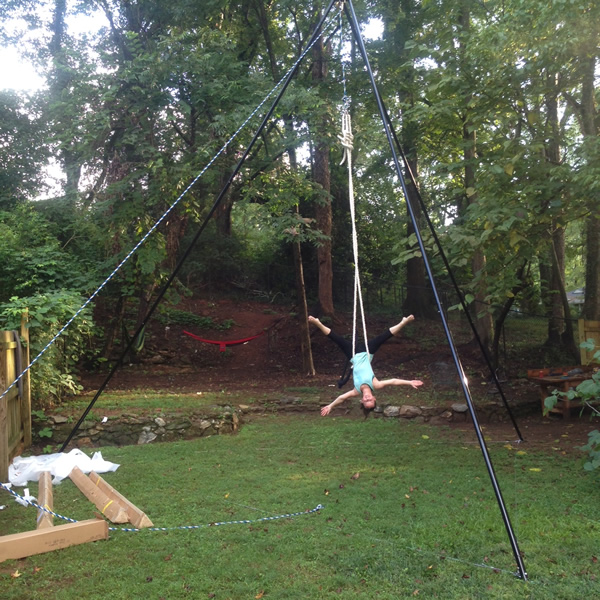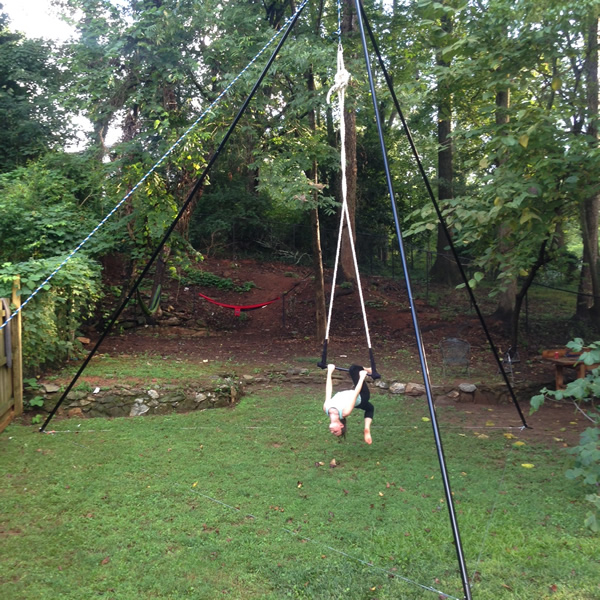 Testimonial from Ricky G in Australia, 09/21/15
Hey Be Be,
I managed to get my wife Kara out of the house for an hour this morning while Tom brought around the rig for us to set up. We set it up in the front yard over the driveway so she would see it as she drove up. I think she is still in shock. She can't believe her Dad bought it for her. You have helped make her very happy. Thank you. I've attached a couple of photos for you. When we get more in a nicer location I'll send a couple.
Thank you again for helping this happen.
Ricky G.